Sundown Social Club // 04 – Guided Sensorial Body Workshop
November 17 @ 7:00 pm

-

10:00 pm

€30,00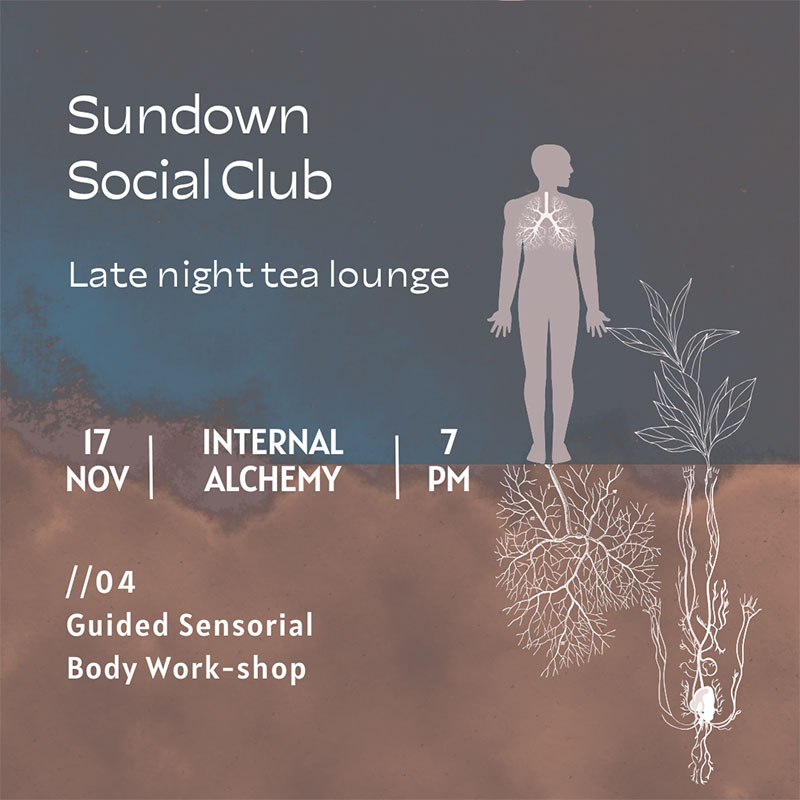 This month's Sundown Social Club, we're super excited to have Kaja Matura a talented Bodywork Educator and Masseuse! She will be hosting a Body Work experience where participants will learn therapeutic touch techniques to better communicate with the body, through mindful listening, feeling, and massaging through blockage points in the body. Often times when we think we need more intensity, we actually benefit from more soothing. When we feel we should work more, and harder, sometimes the best thing for our efficiency and productivity can be a break. Massaging can be particularly helpful for people that have places in their body that feels "stuck" or do many repetitive movements/behaviors.
We will open this evening with great welcoming tea that doesn't just taste good, but also evokes a palpable feeling.  Yiling will guide you through a short tea meditation to tune in with the space and ourselves.  Throughout the evening, there will be different body work exercises and movements. Kaja will be also teaching techniques for nourishing the sympathetic ("fight or flight") and parasympathetic ("rest and digest") nervous system through conversing with one's own body as well as a close friend or partner, so individuals and partners are welcome!
Apart from the carefully selected tea for the opening meditation, during the workshop, we will be brewing post-fermented teas that will help relax the mind and loosen the body to complement the amazing evening of self discovery ahead!
You are warmly welcomed to join us! 🙂
Details
Date:

November 17

Time:

7:00 pm - 10:00 pm

Cost:

€30,00

Event Category: