Sundown Social Club // 03 – Kombucha Tasting & Workshop
October 13 @ 7:00 pm

-

10:00 pm

€60,00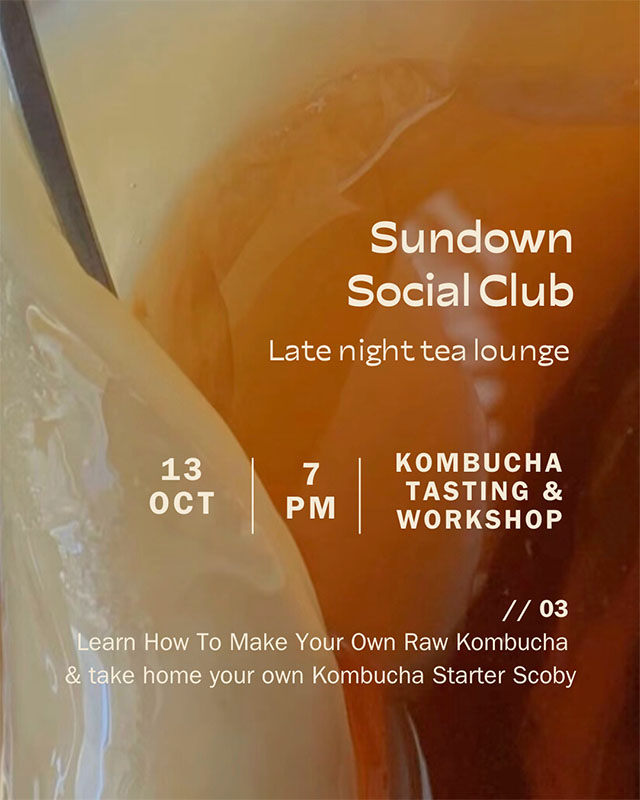 Sundown Social Club //03 IS HERE! And it's one many people have been asking for – Raw Kombucha Workshop led by Nari Tea's head brewer Patrick. In this workshop we will not only taste a series of our Single Tea Raw Kombuchas, but we will teach the science behind Kombucha, and how to brew your very own Raw Kombucha at home. Every participant will also walk away with their very own starter SCOBY, which has come from the Nari Tea Mother SCOBY (Symbiotic Culture of Bacteria and Yeast).
With just three ingredients – Tea, Sugar, Microbial Cultures – you can create an effervescent elixir that's truly special. It's special not only because of its healthiness – probiotic through supporting beneficial gut bacteria and reducing inflammation, not only because it's delicious – through the beautiful fermentation process that transforms tea into a full bodied funky wonderland, but because in a way it's Alchemy magic that can be done in your very own home.
Scientific research over the last decade have validated these health claims, HOWEVER the key thing is that this research is done on traditional Raw Kombucha and does not apply to store bought Kombucha, which at this point is closer to soda than actual Kombucha due to various filtering processes to make it shelf-stable. These processes remove many of the beneficial bacteria that makes Kombucha so beautiful. Anyone who has drank our Raw Kombucha can instantly taste and feel the difference.
Kombucha is also special to us because in a way it represents the Nari Philosophy. With some tea, a little sweetness, and a symbiotic culture supporting each other, we can all create something healthful and beautiful!
Details
Date:

October 13

Time:

7:00 pm - 10:00 pm

Cost:

€60,00

Event Category: