Sundown Social Club //02 – Intuition & Tarot Workshop paired with tea
September 8 @ 7:00 pm

-

10:00 pm

€50,00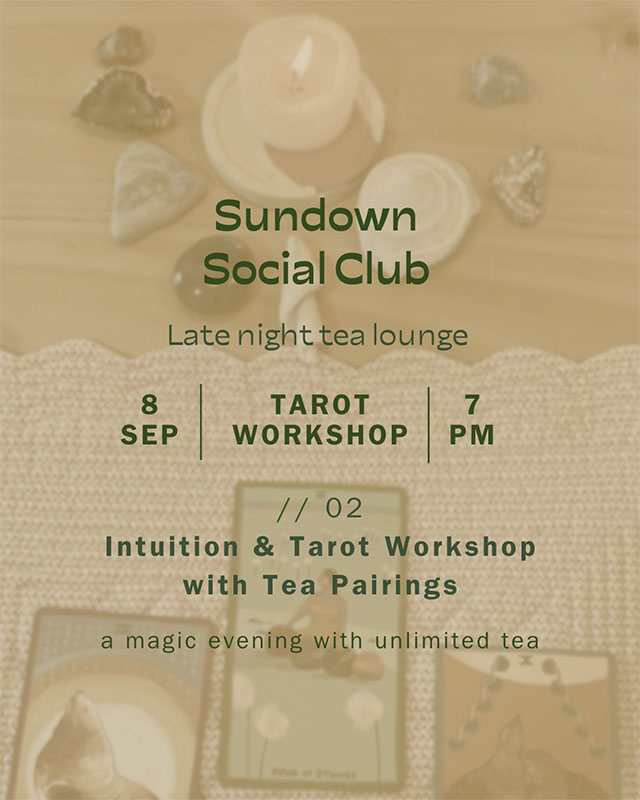 Have you been feeling intrigued by the Tarot or intuitive practices but not knowing where to start or what to trust?
Tarot is an intuitive practice and intuition is something we are all born with. We may feel the connection has weakened as we've grown older, but our intuition it is ALWAYS ours and there for us. It is also something we can strengthen through intention, play and practice.
Join us for the 2nd edition of our Sundown Social Club, a magical evening with our guest Dorothy Zablah, where we'll be learning Tarot reading, precisely through play & practice, as well as a special set of tea pairing & guided tea meditation along with the 4 suits in the Tarot: Cups (Water), Swords (Air), Wands (Fire) & Pentacles (Earth) 
It will be an experiential cozy Friday evening with unlimited tea & intuition practice workshop.
______________________________
** What will the workshop be like? **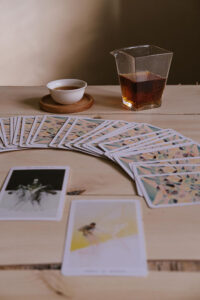 This will be a cozy and experiential journey to learn some basic mechanisms for accessing our intuition, as well as some of the basic things you need to know to begin or deepen a Tarot practice. For each one of the 4 suits, there will be a guided tea meditation carried out with a special tea pairing.  By the end of this night my hope is that you will walk out with a warm buzzy feeling & some basic strategies to keep your tarot practice alive, safe and in integrity. If I've done my job well, you'll also walk away with a deeper trust in your inner knowing.
We'll start by playfully practicing with our intuition, and demystifying that side of the practice. And we'll end the night by actually reading Tarot for ourselves and having some one else do a small reading for us!
______________________________
** What teas will we pair with? **
🌀 Air : 3-year-aged Moonlight White Tea from Mt. Jingmai 
🔥 Fire : Traditional Charcoal Roasted Yan Cha (Rock Oolong) from Wuyi
🌍 Earth : 7-year-aged Floating Feast Shu/Ripe Pu'er from Mt. Bulang
💧 Water : Wild Rose Tea Hand picked & dried by Yiling's aunt from North China
______________________________
** About the Host **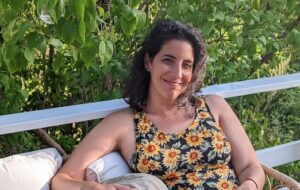 Dorothy is a Mexican-Palestinian experiential learning designer, ritual designer & professional facilitator. Combining science & spirituality is my jam. Demystifying both and bringing wisdom from both of these worlds down into our lived experience is my life's work. Creating a safe space of learning in community is how I enjoy my work the most.
 I hope you'll join us for this journey!
Ticket price includes the unique tea pairings with each of the 4 suits in the Tarot, as well as a one page guide to help you remember the process & keep up your practice later at home.
Details
Date:

September 8

Time:

7:00 pm - 10:00 pm

Cost:

€50,00

Event Category: