Sundown Social Club //01 – Otto Nuoranne & Pajuh
August 25 @ 7:00 pm

-

10:00 pm

€30,00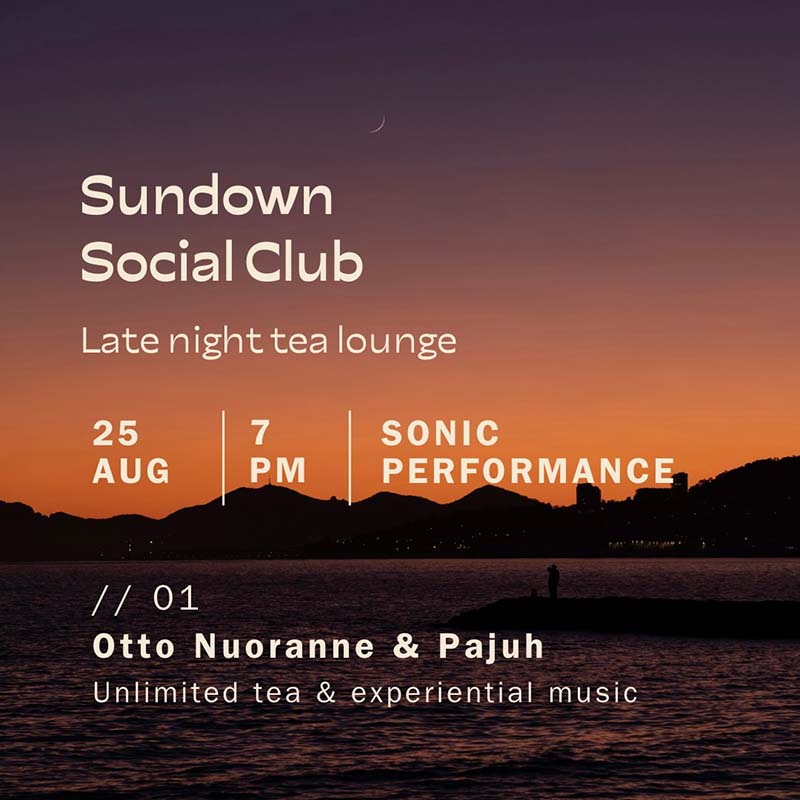 Sundown Social Club is our tea at night alternative safe space pairing unlimited tea with amazing music, workshops, and events.
With Sundown Social Club, participants will enter a safe space without boundaries – with a single ticket price you will be greeted with a glass of our Pet Nat Kombucha, unlimited teas (including our fermented dark teas and roasted stem teas which relax the body & mind with little to no caffeine), and an intimate, immersive night ahead. This is also our space for collaborations, as we envision Sundown Social Club taking on a life of its own – musicians, artisans, and practitioners of all walks of life are welcome to take part as participants and host. So send us a DM if you're interested in collaborating! (info@naritea.com or ig@nari_tea)
---
On 25.08 join us for SSC's first edition //01  – we're honored to have amazing musicians Otto Nuoranne & Pajuh to take us on a musical journey. Both Sibelius trained musicians, Otto Nuoranne is a Finnish composer and multi-instrumentalist whose music ranges from contemporary classical to experimental rock and electronic music, and Pajuh is an experimental electro-acoustic music performer combining multiple genres with Iranian folk music's poetical improvisation. His work has drawn influence from styles such as psychedelic rock, funk, Nu jazz, middle eastern, minimal, and electronic music intending to fabricate modular compositions. Armed with cello, saxophone and a host of effects and oddities, Otto and Pajuh will take us on an improvised musical journey pushing the boundaries of sound – made and played for the time, space, and people. ( Sneak peak of what's to come with their joint musical experiments HERE )
We already have some curated teas that will calm and relax the mind to complement the sonic experience. For sure you'll be seeing some fermented Tibetan Dark tea for its soothing energy as well as some Roasted Buckwheat tea for those looking to avoid caffeine altogether. At Sundown Social Club you're also welcome to brew other teas in our collection to your heart, body and minds content. This event is limited seating so, make sure to reserve your spot ahead of time!
Tickets include entrance to the event, unlimited tea and a glass of Nari Pet-nat Kombucha.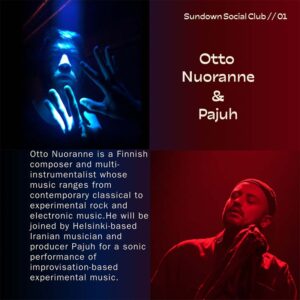 Details
Date:

August 25

Time:

7:00 pm - 10:00 pm

Cost:

€30,00

Event Category: